With many of us in lockdown and in self-isolation during the COVID-19 pandemic it is more important than ever to make our homes work for us. It is well known that clutter impacts on our mental well-being. Many of us are experiencing a raft of emotions such as grief, stress and anxiety. Whilst we navigate our way through these turbulent times, what better time to make our homes as harmonious, calm and as nourishing as we can.
Decluttering is not only therapeutic, it's cathartic and energy boosting. Our physical environment impacts on our emotional being and harmony in our home will help with our headspace. Clutter is not just physical, it's mental and digital too.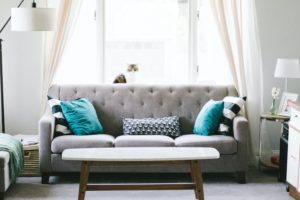 Here are ten top tips to help harmonise your home and your head:
1. When you are decluttering use the 3 C's – chuck, cherish, charity. Any items identified for charity, label up with a date and put aside somewhere – in the boot of your car, downstairs cupboard or loft. Remind yourself however where you have put these items and what they are, so you are not tempted to rummage through again.
2. Self-care is more important than ever before and with self-care routines including a good night's sleep, relaxing baths, exercise, and healthy meals. With this comes the need to have a bedroom that acts as our haven, a bathroom that is relaxing, and a kitchen that provides us with space to meal plan and prepare nutritious meals, and a space to exercise.
3. Mental clutter can be caused by too much exposure to the news, the social media and the sheer volume of information we are bombarded with. Protect yourself from this and recognise potential overload and over stimulation. Limit yourself to looking at social media and the news to twice a day. Be aware of digital intrusions; notifications on your phone can distress and distract you.
4. Is your home serving you or does it feel like a prison? We are needing to adapt our living space to serve as a place to relax, reflect, and perhaps work from home so we need it to support our values and wellbeing. Put your things away rather than putting them down and never leave a room empty handed. A clear space equals a clear mind.
5. Is your head whirling with things you feel you should be doing, want to do, ought to do and need to do? There's nothing worse than walking from room to room trying to remember what you need to do, and this too can challenge your sleep hygiene. Write a list before you go to bed and keep a 'to-do' list on the go but make sure the list isn't too arduous and includes activities that you enjoy.
6. Make the most of your home. Our home is less about the building, the size or location, it's about the emotional connection and sense of calm and comfort we derive from it. I am now working in the kitchen in the morning as the sun shines through, so I am making sure my space works for me. Like my cat, I move around my home with the sun.
7. Value what you have and be grateful. How many of us have thought about acquiring more possessions whilst in lockdown? Don't be tempted by offers of 30% off on clothing what we do not need. Unsubscribe to emails on these. This time has given us room to reflect on what is important to us and we really need. More connection less consumerism. More experiences and less stuff.
8. Where do I start? You may well feel overwhelmed by it all so it's important to start small and focus just on one area. Start in the hallway for visual impact. Set a timer and if you need motivation, listen to music and start with just 5 minutes. Don't spend all day decluttering – leave yourself wanting to do more.
9. Let it go. This applies to not only the stuff in our homes but also the stuff in our heads. We seek control wherever possible and there is so much that we cannot control during these tough times. Recognise what you can and cannot control and let it go. This takes courage. Be brave.
10. Be kind to yourself. Do not put unnecessarily pressure on yourself to set new targets and resolutions. Take solace in music, exercise, napping, and in just being and not doing. Laughter too – find it where you can and connect. Connect with yourself and others. Lastly – take care of yourself.